Instrumentation
Gas Turbine Thermocouple
Temperature is the most widely measured process variable and its measurement is critical in many manufacturing processes. A complex engine like a gas turbine needs to be thoroughly instrumented in order to be safely and correctly operated. the most important parameter to be monitored is definitely temperature. Vanda manufactured temperature probes of exceptional quality to assure this measurement is accurate.
Vanda has extensive experience in designing, customzing and manufacturing gas turbine temperature sensors and succeeded to produce high accurate thermocouple for various gas turbines such as Solar and Ruston for its customers in iran oil industry and is working on the jet engine thermocouple for aviation industry.
We are ready to customize and manufacture any type of gas turbines thermocouple for your individual applications whether a single probe or multiprobe required.

Type-K Thermocouple
Thermocouples are the most popular temperature sensors. They are cheap, interchangeable, have standard connectors and can measure a wide range of temperatures. The thermocouple probes may be of single, double, or triple element construction.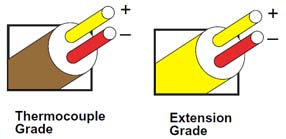 A K type thermocouple is the most popular that provides the widest operating temperature range from−200°C to 1,260°C (approximately -328°F to 2300° F) and uses nickel-chromium and nickel-aluminium alloys to generate voltage. Due to its reliability and accuracy the Type K thermocouple is used extensively at temperatures up to 2300°F (1260°C). This type of thermocouple should be protected with a suitable metal or ceramic protection tube, especially in reducing atmospheres.
Thermocouple Sheath Material
in our products, Inconel 600 is Most widely used for thermocouple sheath material. This material is good in carburizing environments, and has good creep rupture strength. Designed for high temperature corrosion resistance, resistance to chloride-ion stress corrosion cracking and oxidation resistance to high temperatures.

Transient Temperatures
One further important thermocouple property is response time. Physically common thermocouples take time to respond to temperature changes, due to thermal inertia, and are unsuitable for transient development testing. Gas Turbine Thermocouples produced by Vanda, have Special Limits of Error namely about ± 1.1°C or 0.4% and fast response time.
Type K Thermocouple Characteristics Table
ANSI/ASTM
Symbol
Single
Generic Names
Individual Conductor Color
Magnetic
Tolerance
Temperature Range °C
Special Error
K
KP
Chromel, Nominal
Compositions: 90% Ni, 10% Cr
• Yellow
No
-200 to -110
-100 to 0
0 to 275
275 to 293
293 to 1260
__
__
±1°
± 0.4% T
± 0.4% T

KN
Alumel, Nominal
Compositions: 95% Ni,
2% Mn, 2% Al
• Red
Yes
Type K Thermocouple Standard Color Code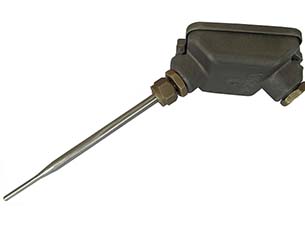 Features and Benefits of Our Thermocouples:
Rapid response time

Superior quality

high accuracy and long life

Cost-effective retrofit capability

Simple quick installation saves time

Talented technical support

Parts are usually in stock to provide quick turn around time